We are very grateful for the opportunity of having knowledgeable, experienced and wonderful speakers from the visually impaired community talking to us and sharing their life experiences with us. This section has their short biographies, the fliers made when for the talks and the streamed videos as they were streamed without edition or cuts. The idea is to gather quality information from primary sources to learn and to share with the world. 
---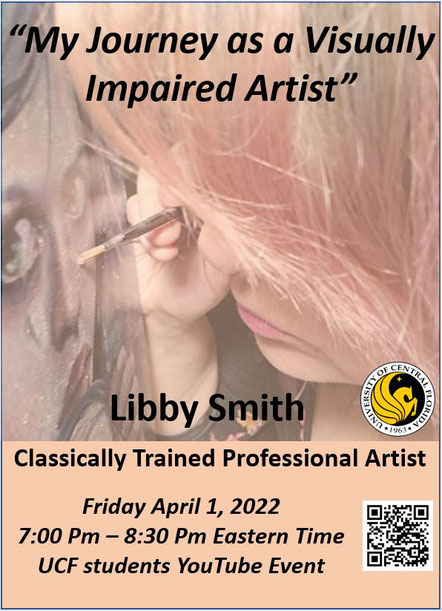 Classically Trained Fine Artist & Visually Impaired  
Original Oils, Watercolors, Sculpture, & Drawings
Libby Smith has been a classically trained artist for over 29 years specializing in portraiture and figurative.  She loves to paint in oil and watercolor, but also uses many other mediums to express her intentions.
One thing that makes Libby Smith a bit different is that she is visually impaired.  She lost most her sight about 15 years ago, yet her work has increased in skill and beauty since.  She recently has been losing sight quickly so she has worked constantly trying to paint as much as possible "memorizing the world" while she still can. She knows time is short and has been transitioning quickly into sculpture and pottery while she still is able to set things up for her convenience. It has been a very painful and frustrating transition to start over as a beginner in a new medium, but she's determined to continue creating. 
Always specializing in portraits and figurative, she has branched out to include more subjects to celebrate the vibrancy of our planet and its inhabitants. Her latest oil series celebrated the magic in every human being, her Magical Beings series.  Knowing that her time is limited, Libby has been painting fervently the subject matter nearest to her heart, the beauty of humanity.  She shows the magic that resides in every one of us. 
Unfortunately, her sight is almost gone, and painting is getting to be very difficult, so every creation now is treated as if it is her last.  She is pouring everything into her final oil paintings. Everyone considers her work realistic, but she sees it as abstract. She can only "see" at about 1" away, which is an extreme close up of every brush stroke. When she steps away,  the painting disappears, blurring into the background. She uses her phone to take photos so she can get the entire image within her 1" viewing distance. In the average painting, she will take hundreds of photos just trying to see what she just painted. 
Lately,  she has been experimenting using a more tactile medium in preparation for total loss of sight. It has been a very frustrating and long road searching for a way to continue, but knowing it'll be like stepping back to square one after 40 years of work actively trying to master oils. She is still a beginner in clay and is trying to figure out where she wants to take it. 
She also is planning a series where she will be painting only what she actually sees.  This will document a portrait painter's journey into blindness called "Through My Eyes".  She is planning to document the upcoming series on her Patreon account,
https://www.patreon.com/LibbySmithStudio
Libby was featured in the Orlando Arts Magazine,  VoyageMIA, as well as on the front page of the Orlando Sentinel. Her art has been published on a book cover as well as in a book documenting the 35x35 show, which is in a permanent collection in a museum in Athens, Greece. 
---
---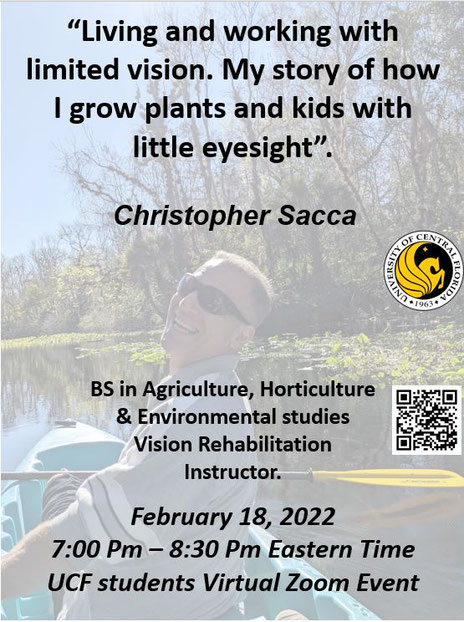 BS in Agriculture, Horticulture &Environmental studies Vision Rehabilitation Instructor
Hello, my name is Christopher Sacca. I was born in Philadelphia, and currently live in the Orlando area with my four kids.
Environmental horticulture is my area of expertise where I studied this at the University of Florida.
Presently, I work as a Vision Rehabilitation Instructor, teaching independent living skills to visually impaired adults and teens. I try to make a difference each day by using my own experience with visual impairment to help others that are dealing with the same thing. Prior to this, I worked for the Division of Blind Services as a Children's Counselor assisting families of blind and visually impaired children by providing educational and social resources through the state of Florida. In my younger days, I worked for the Department of Environment and Natural Resources of North Carolina.
In this position, I studied arboriculture and helped to preserve historic trees on state property. This career reflects my lifelong love of environmental horticulture. This is something that I have cared about since my childhood. I value the environment and the science of growing plants, specifically, the production and cultivation of trees. Although I lost the majority of my eyesight in 2005, I still remain active in this field by continuing to develop educational programs for kids in environmental conservation and horticulture. My life has been an interesting personal journey so far and I look forward to the future.
---
---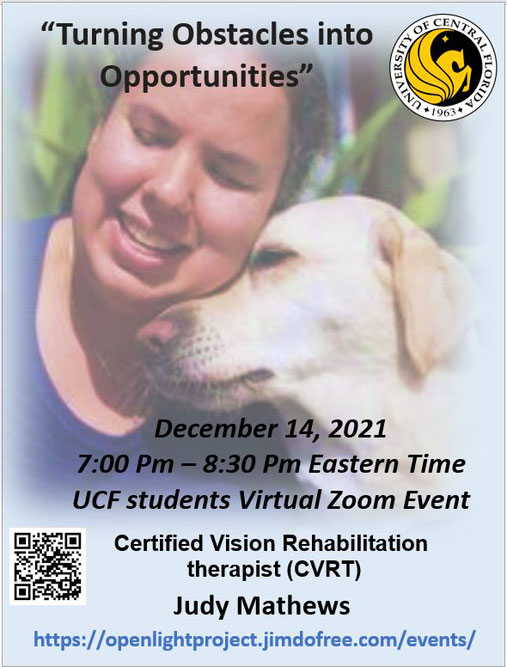 Judy Mathews is a Certified Vision Rehabilitation Therapist (CVRT). She also has a background in music therapy. She has been in the field of vision rehabilitation for 17 years, and has supervised adult rehabilitation staff for six of those years, all at Lighthouse Central Florida. She is currently an Assistive Technology Specialist with the Colorado Division of Vocational Rehabilitation's Blind and Low Vision Services Unit.
For the last 15 years, Judy has been a member of the consumer advisory group at Dicapta Corp, a company dedicated to making media accessible for everyone, providing quality video description and closed captioning. She served on the Guide Dogs for the Blind (GDB) alumni board for over six years, and started a GDB Florida alumni chapter in 2007. Additionally, she served on the Central Florida Lynx Transit Advisory Committee for five years, and has recently begun serving on the Colorado Springs Transit Passenger Advisory Committee. Judy has been instrumental in transportation advocacy efforts in Central Florida, regarding fixed route, para transit, and rideshare services.
Education
M.S. in Visual Disabilities,
Florida State University, 2003
B.M. in Music Therapy and minor in Psychology,
University of Miami, 2001
Certifications and Endorsements
Certified Vision Rehabilitation therapist (CVRT):
2008 – present
Music Therapist Board Certified (MT-BC):
2002-2012
Florida Division of Blind Services Access Technology Endorsement:
2011
---
---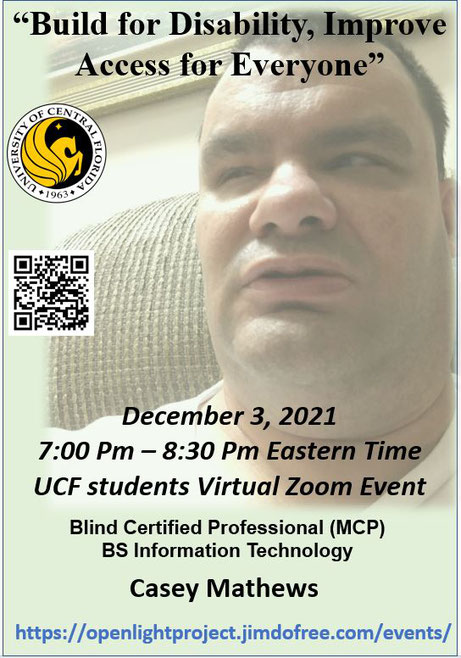 Casey Mathews has worked in the Access Technology field since the mid 1990's. He holds a Bachelor of Science in Information Technology from the University of Phoenix, and the Florida division of Blind Services Access Technology endorsement. He is also a Microsoft Certified Professional (MCP)
Casey is the founder of WebFriendlyHelp.com, where he provides cutting edge technical training and support, virtual assistance, and audio editing. In addition, he has worked with The Weco as an Accessibility specialist since 2016. Casey was an Access Technology Specialist with Lighthouse Central Florida from 2007-2020.
He was also instrumental in the founding of a Guide Dogs for the Blind (GDB) technology alumni chapter in 2011.
Casey is highly committed to changing lives through technology. He enjoys testing new devices and software, and remains informed about new technical developments in this ever-changing field.
---
---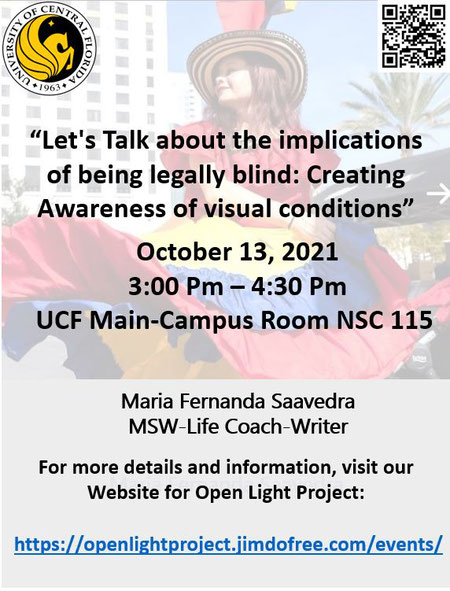 We are Honored to have Maria Fernanda Saavedra as our First guest speaker at the UCF "Open Light Project" awareness event. Educating students about visual conditions and spreading awareness is very important for us to build a more inclusive, just and prosperous society.  She will be sharing her amazing story with us at UCF main campus at the Nicholson School of Communications building and will be streamed as well through this Link: 
---